The Deerfield Beach Computer Club (DBCC) is a non-profit 501(C)(3) organization of senior amateur users who meet on a regular basis via Zoom to share their knowledge and enjoyment of their computing devices, hardware, software, and technology.
Our Mission
Our mission is to provide an informative, entertaining, and comfortable virtual learning environment where skilled and novice computer users with diverse levels of expertise and experience can respectfully exchange ideas, knowledge, and experience for the enrichment of all concerned while building confidence in themselves through the use of technology.
---
Directions
Note: Use of a GPS device or Map App will not take you directly to our classroom. For the most accurate results follow the directions below.
To come from Hillsboro Blvd thru the Century Village Main entrance.
From Powerline, turn East onto W. Hillsboro
Turn Right on Century Blvd (just before Military Rd)
Go thru Visitor lane at Gate
Continue on Century Blvd (in yellow below) to West Drive stopsign. Turn RIGHT.
As approach West Gate, turn RIGHT into the Prescott Drive parking area and turn left again.
Continue around the curve onto Prescott-Tilford Drive.
Follow the road until you see the Prescott-Tilford sign on your right.
Turn left at the sign and continue into the parking lot.
The entrance door to our building is on the left.
Once you enter the building, Room B is the second classroom on the right.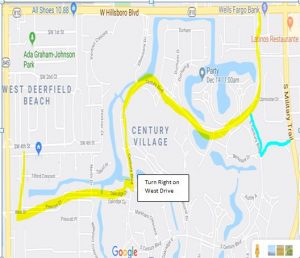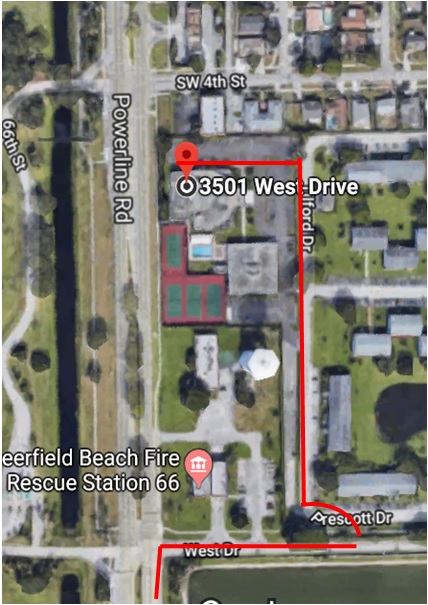 Directions from Military Trail
From 10th St, turn North onto Military Trail
Make a U turn and immediately get in right hand lane
Turn into Century Village East Gate
Go thru Visitor lane at Gate
At stop sign, turn right on Century Blvd (in Red)
Continue on to West Drive stopsign. Turn LEFT.
As approach West Gate, turn RIGHT into parking lot.
Continue normal path to meeting room
---
2020-2021 Board Of Directors
Frequently Asked Questions (FAQ)- Revised by Barry Cowen in January 2021
All live classes are cancelled until further notice. We will continue to present two free Zoom classes each month to members. We will let everyone know when it is safe to return to our building and classroom. ______________________________________________________________________________________
Classes meet every Friday except holidays from 10:00-11:30 AM in the Le Club Activities Center, Room B, in Century Village East (CVE).
Non-residents must enter through the West Gate at Powerline Road and West Drive and have their names on the weekly approved list. Have ID ready to show the Guard.
Doors open to the public at 9:30. To minimize disruptions, please plan to be in the classroom area to sign in between 9:30 and 9:55. Class will begin at 10:00.
Members will be admitted free of charge to all classes.
Guests may attend one free class. To attend another, they must join the Club.
We respect your privacy. All Personally Identifiable Information (PII) you provide to the Club or analytics data we obtain from our site will be shared with Board members only.
The parking area and the building restrooms are handicapped-friendly.
Attendees must provide their own transportation to and from the classroom.
We will not provide refreshments. Please bring your own and keep your area clean.
The building has free unsecured WiFi. It is not safe to transact business or visit unsecured sites on any of your devices during class.
Anyone under 18 years of age will not be permitted to enter the classroom.
Licensed service dogs are permitted. Owners are responsible for their care and conduct.
Guests are now eligible to attend after class (11:30 AM-12:30 PM) Workshops with sponsoring members. Registration is between 9:30 and 10:00 on the date of the Workshop. Each member and guest attendee must pay a $1.00 entry fee at a designated table. Members must attend the Workshop with their guests.
New Individual and Renewal memberships are $25. New Family and Renewal memberships are $35. Memberships expire one calendar year from the date a member joins or renews.
Pete Zambito will email membership dues renewal reminders to all members. Members must pay their dues no later than the last Friday in their renewal month to avoid having their account placed in delinquent status. Until their dues are paid, members may be ineligible to attend Workshops, attend special events, and could be denied entry to the classroom. No partial dues payments will be accepted.
Please make checks payable to the Deerfield Beach Computer Club. We do not accept credit cards. If you are paying in cash, please try to have the exact amount.
Members are responsible for the conduct of their guests and aides.
We reserve the right to deny entry to any member who continually uses profane language, bullies, threatens or harasses attendees physically or mentally, or behaves in a disruptive or disrespectful manner. The Board may vote to suspend or revoke the membership of any violator(s) for causes stated above. Under those circumstances, no partial or complete refund will be given.
If you have any questions or comments concerning Club business, send an email to Barry, the Club President, at president@db-cc.net.
In Century Village East, residents should email their questions about the Club and membership to Pete Zambito at Petezambito@bellsouth.net